Go Beyond Traditional Security
Radar helps your enterprise build safer AI, going beyond traditional security practices, by providing AI developers, ML engineers, and AppSec professionals a way to see, know, and manage an ML environment. The result is an ability to quickly identify and remediate risks, and maintain a stronger security posture in the complex and rapidly evolving world of AI.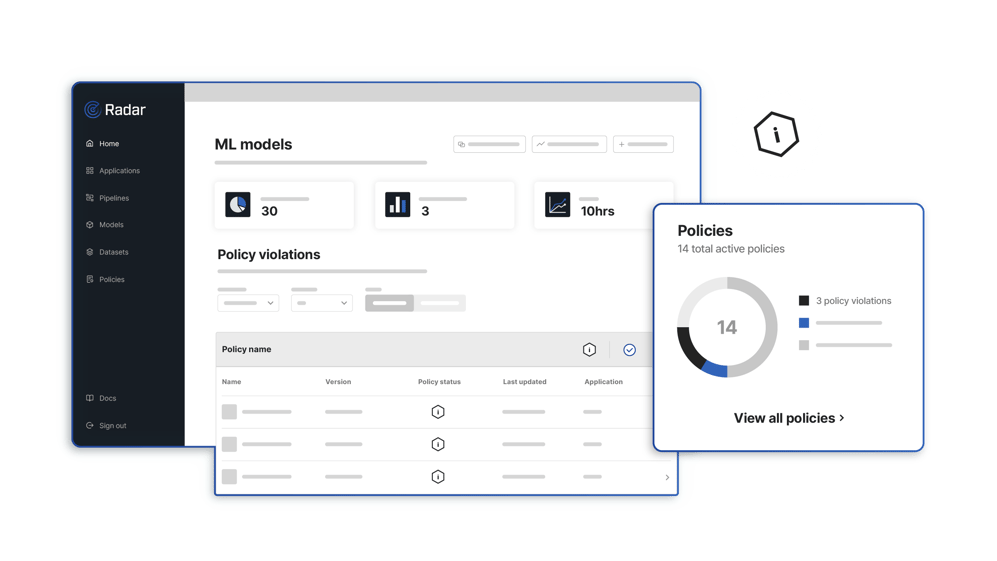 Unleash an MLSecOps Strategy
See Your ML


Gain complete visibility of your ML attack surface, with quick identification of risks and threats in ML systems and AI applications.
Know Your ML

Create a dynamic ML Bill of Materials (MLBOM), that unlike an SBOM, provides a list of all components and dependencies in an ML system, so you have full provenance of your AI/ML.
Manage Your ML


Continuously monitor your entire ML environment, to quickly identify and manage security issues, and protect you from supply chain vulnerabilities, data and secrets leakages, and other security concerns.
MLSecOps: Get Involved.
MLSecOps is derived from "machine learning" (ML) and "security operations" (SecOps), referring to the practice of integrating security measures into machine learning workflows and pipelines.
Join the MLSecOps Community to access curated resources, learn best practices in machine learning security, listen to podcasts with thought leaders, and connect with our thriving Slack community.